You are currently viewing our forum as an Instinct guest. As a guest, you are restricted from the majority of our forums, and you may find yourself unable to use some features. In order to rectify this, please Register an account and join our community. We hope you enjoy this guest area which we have provided you, and further hope you decide to join.

If you're already a member please log in to your account to access all of our features:


Board Statistics
Total Forum Posts:
29,254
Total Members:
194
(The newest member is
NzAlphaKing
)
Wednesday Jun 13 2012, 06:22 PM
, a record
67
users were online.
Citadel Update
We are currently working toward upgrading our citadel to Tier 3. We suggest gathering
1,000 timber and 200 stone
. Hope to see you there!
Instinct
Leaders
Golden Goal
Hellfire010
Lakster
Nuvonic

Chats
Clan Chat: Instinct
Swift IRC: #Instinct

Home Worlds
P2P: 91
F2P: 81


Jagex has brought back a version of Runescape from August 10, 2007 (in a similar vein to Runescape Classic). All members can show their support by "voting" and if 500,000 members "vote" the service won't cost any additional charge to a normal membership fee. Currently, playing 2007scape will cost $5.00 in addition to membership, but anyone who votes gets one month to play for free. Also, the game is LIVE right now! The clan's official world for Old School Runescape will be world 61. We've also been using our old clan chat, ClanInstinct.
Requirements
100+ F2P-based combat OR
100+ P2P-based combat
& 1600+ Total

Links
Runehead
Memberlist
FAQs
Rules
Upcoming Events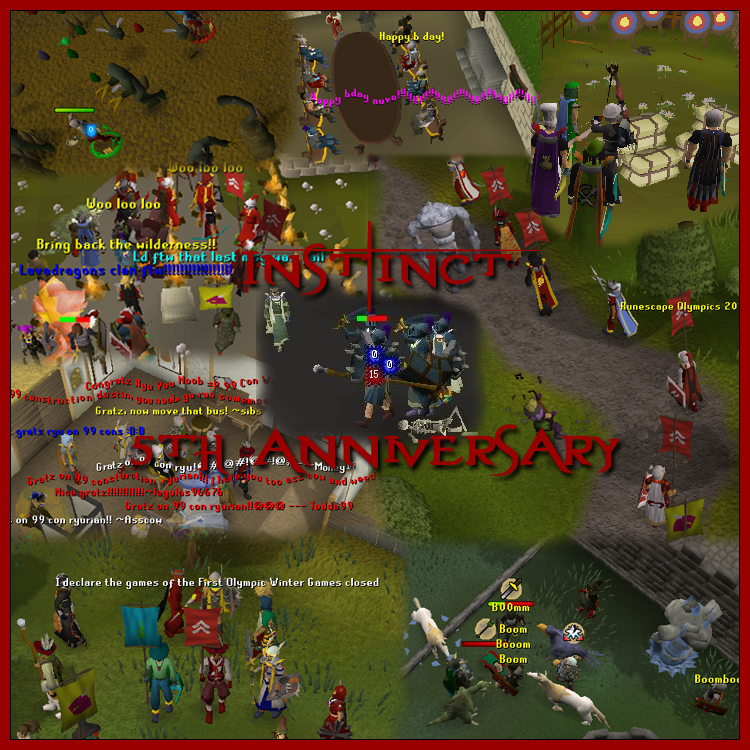 Instinct 5th Anniversary
Meet: Grand Exchange, W91 or W81
Date: Friday, December 21, 2012
Time: 6:00 PM (ET), 11:00 PM (GMT), 3:00 PM (PT)